I Usually post a journal updating some news about what I'm doing with my art and a few personal things, believing that is what people usually do here on DA
we all want to improve our works and pass a bit of ourselves to the ones that kindly follow us and support us
That why this time my objective is not make an errant nor angrily point fingers to anyone, what I really want is
your honest opinion, as artist , writer or just a watcher.
so lest start from the main topic

is one of the Artist on DA that I admire, for her art, dedication and as person that put her fans opinion on her heart.
Now she had her character once more time taken away and used with out her permission please see of ShrimpHeby case 1 and case 2 this second one belong to her friend also a victim here. both links from the site 2.roleplaychat.org/
now hold one second this is the part I really want to bright to as main topic and sincerely ask your opinion:

you really want to this keep happening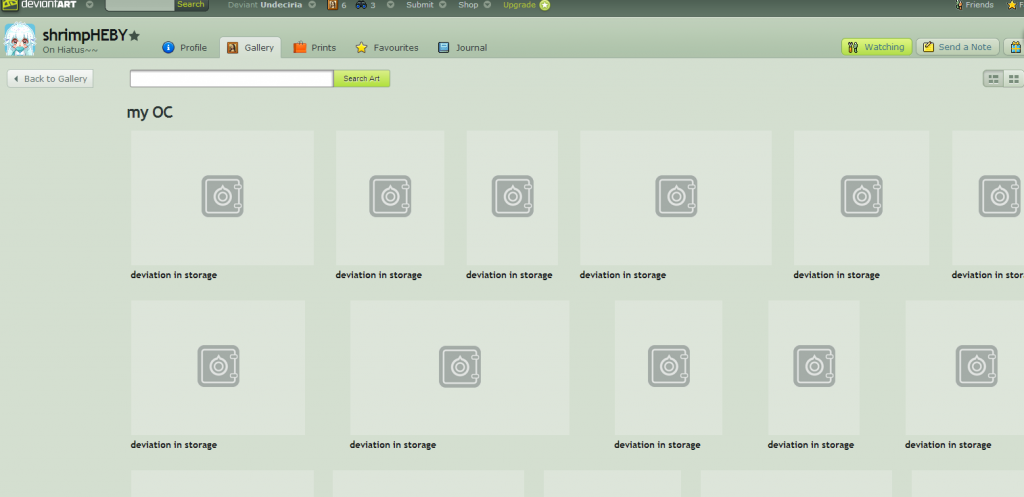 shot form her gallery
fav.me/d6f0hzx
I dont believe she is exaggerating, since on the past she already had her characters, commissions and gifts given to others stolen.
The most award part is there
people angry about this kind of events post on journals
considerate as 'over reaction' and now allow me to say that more and more
Artist of DA choose to leave and delete their account, in the less they are not longer as active as they used to be.
Recall how

used to post beautiful ,high quality art? , and currently is forced to put huge water marks on the ones left on her gallery due similar issues.
Going to other places
such as Tumblr , twitter or just other art based website have become the only way and even so eventually happen all over again.
On shrimpHEBY case , she already try endless time to talk with people talking credit of her works, and that didn't result well on most of the cases, such as the time when they only edit the color of the stolen character and turned people against her. but already say not pointing finger nor putting names, here is nothing but an example that how an artist is discourage to make a point, remember
silence is consent
let is pass once, and soon you will be the one called thief.
how much struggle one have to create an oc that actually stay with you for years?
Improving it both story and shape ?
seriously this is just one of the most simple base
Check the previous links of the character that were taken? ,
its do claim that the art is not belong to the user, but aside that all the rest is copyright.
only because someone liked the art, not even ever asking for permission of re-post the art they also changue the name, personality, history and start, claiming that beside the art , all the rest belong to them , which really isn't much.
Ill be mad , and I'm sure that many others will agree with those points, take you ages to reach a final concept on the design and history of it.
and them someone is like:

Hey this my [Insert random name]
like girls and he usually angry with life
the art NOT belong to me .
Bu i wont accept anyone stealing my history! ['the random name', 'that like girls' and is 'angry with life' ... those parts]

Of course I'm exaggerating here, the usually you 'put it on internet on your own risk' sound more like an excuse to move the fault to the victim .
now let us take this example:


Name: Robert Armstrong
Age:18
Personality: a gentleman
History: " Ill defeat all my enemy's for the love of my wife" [wife on other link]


now let us say that instead of Sephiroth, is your Character. Now sure how you feel about it, people that are not close to your will sure say is just an small thing.
But This apply on art- thief case as-well,
is not 'small'
is hard, while DA have people leave because they dont see plenty of feedback aside the usually
nice , is pretty , cool .. etc
, the usual fav and run, The main reason is making feel the artist that fighting for the sake of his own works is wrong.
That why I wanted to show this points that matter, at last for me.
Thank you for the attention.
extra: Google chrome have application to source art
just left click on the picture, it will help you to find art thiefs.
Also check this
Tumblr Post
wroth the time